I thought i would set this up so we can respond to each others artwork(s) and for all to come and share their thoughts. Inspired by another member i think you know who?????
WHAT IS ART?
I did a research paper on this from a child's point of view, and measured results etc. A research paper was a requirement to pass my degree.
To be truthful i can't recall results, nor have the paper???? not unusual missing a lot of my stuff.
Anyway.... What is art? I personally do not believe there is an answer...you can find quotes, research papers etc.... but in the end it is what you personal deem as art. My opinion only
For instance, on our walk today, i spied a skeleton leaf laying alone.... is that art? Yes/No? if i was to do a relief print is that art? Yes/No?... If i was to write a verse, poem, etc is that art? Yes/No?
Personally yes to all
hmmm
Not looking for answers just opening a thread for all to make comments about others artwork(s), thoughts etc... PLEASE BE NICE THO

Arohanui
Comments Welcome
what type of leaf is that, from what tree?
No idea, it is a skeleton leaf..... a leaf where the pulpy part has died- due to time and all that is left is the 'framework' skeleton.
I'm sure someone has a better explanation lol

I did the relief print when i was teaching - an example
You can get fabric paints and brush/dab on/ dab off, paint thin like, then the turn the leaf over onto fabric...quite cool. Will load some pics of some i have done. Lots of variations. These have been sewn onto a cover for my couch. Hotere style look lol. They look awesome on clothing!!!
Some of the prints are not skeleton leaves - outlines of leaves.....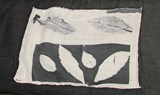 Continued on from "what kind of leaf is that?" lol
Just before 6am this morning Molly and I went on a skeleton leaf hunt, remembering the general whereabouts, knew we would find what was needed. Thought I would show the process also.
The picture with mainly black and a speck of white is Molly on the run. Molly sometimes can't see very well and started barking at me and off she ran!!!! LOL The things I get Molly to do hmmm.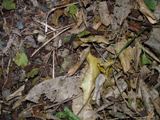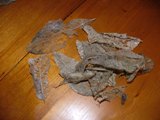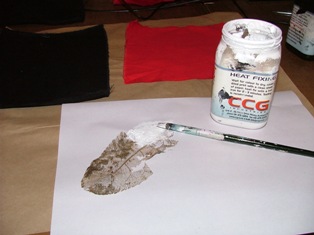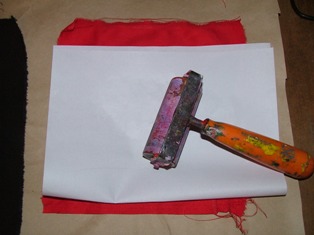 Molly on the run..... scardy cat!
Welcome to print off - if interested in doing this process. When it gets light outside I am going to have a good hunt to try and find the 'perfect' skeleton leaf.....

So is that white paint you put on the leaf, looks like glue?

Bloody dogs ay?


Similar topics
---
Permissions in this forum:
You
cannot
reply to topics in this forum