Im not to sure of these journal things but i will give it a go.
ive spend the last few days in bed with a nasty flu so my brain is in over-drive.
Last night was horrible,the reason may sound silly to others, my cat Evo spent the night at the vet after having a cut on his paw infect. It got me thinking about how much this bundle of fur has saved me from going insane.
I first got Evo whist living with my boyfriend "Mr. T", who worked from 5-5 leaving me on my own,no car,nowhere to go in walking distance and nobodies contact. In deep depression this little kitten got me out of bed and gave me a purpose-i had to feed him,litter tray etc. He was called "Evo" bcause of the way he would race and slide around corners. He gave me someone to talk to during the day while i was alone.he was there when i cried, Mr T wasnt. He became my sole purpose of my life-i wont deny that. When things fell apart with Mr T and i moved back in with my parents, Evo wasnt so sure about it...neither was i...there were people here..it wasnt just me, him and levi (the kitten Mr T saved after being ditched at his work by her wild mum) there were also other cats and a dog..it took a while for all 3 of us to get used too ...spending a magority of the time in my bedroom.
As the days went, on living with "people" changed me and lifted my blues- even if just a bit- and evo and levi werent as important as they once had been-but still a big part of my life. i went to queenstown for a week and wanted to go home early because i missed them so much.
So when he began limping on friday i keeped a close eye on him,by sunday it had swelled to double its size, i had an appointment for monday 5.15 but by 4.30 he was on my bed crying and i took him in...and then the vet told me he would have to stay...i felt like id let him down.. when i was sick, he was always there, always knew when i was sad,mad etc and now he was sick and i had to leave him in a unfamiliar place alone.
Last night 4 me,was spent tossing and turning,wondering how he was and when the vet called to say i could get him-i couldnt get in the car fast enough.
we were both glad he was home and he has been "talking" to me all day and will hardly leave my side.
i felt so bad for him i went out and brought tuna for his dinner!! he knows very much that his "mum" is a big softy
Everyone who knows me knows how much my cats mean to me-but i dont think they will ever begin to understand y and just how much they saved me and will continue to do so.
ill post a pik coz i love showing them off =) and with that me evo and levi are off to bed for a good night sleep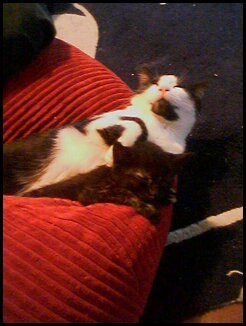 Evo is black and white-levi is black =)

_wizza_




Number of posts

: 148


Age

: 31


Location

: Dunedin


Registration date :

2008-08-21



I dont know why but I got tears reading that (emotional, good tears). I really want a cat now.
Cats are soooo great aren't they?


---
Permissions in this forum:
You
cannot
reply to topics in this forum